Yesterday marked the end of a State-Wide "Roll Beyond Coal" press tour of Texas coal plants. This tour has seen representatives from Public Citizen of Texas and Sierra Club travel across the state visiting communities which would be impacted by proposed coal plants and meeting with local organizations. This was all in a bid to support recent bold action from the Environmental Protection Agency (EPA) concerning the coal plant permitting process of the Texas Commission on Environmental Quality (TCEQ) and to request that the EPA take further steps to create a moratorium on the permitting or operation of any new coal-powered plant (Texas currently has 11 in either the pending, permitted or under-construction phase).
The crux of the matter is the discrepancy between the TCEQ permitting standards and the Federal Clean Air Act. The TCEQ is responsible for the permitting process of coal plants in Texas. For some time now the TCEQ has been issuing what it calls 'flex permits,' which essentially allow individual polluters to emit over the limits of the Federal Clean Air Act, as long as the aggregate pollution of an umbrella of regional sources is below the allowed level. In summation: "EPA ruling claims Texas' air permitting standards are so flexible and record keeping so vague that plants can circumvent federal clean air requirements [emphasis added]." I suppose these 'flex' permits are aptly named.
Here are some of the steps the EPA should take as it reviews the relevant TCEQ policies over the coming months (taken from the Texas Sierra Club web site, where you can take action and contact the EPA):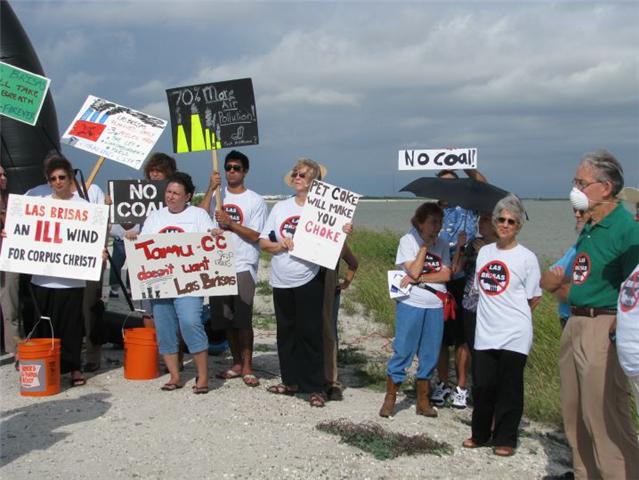 1) Halt any new air pollution permits from being issued by the TCEQ utilizing the TCEQ's current illegal policy.
2) Create a moratorium on the operations of any new coal fired power plants in Texas until the TCEQ cleans up its act by operating under the Federal Clean Air Act.
3) Require companies to clean up their old, dirty plants – no exemptions, no bailouts, and no special treatment by reviewing all permits issued since the TCEQ adopted its illegal policies and require that these entities resubmit their application in accordance with the Federal Clean Air Act.
(Read this blog concerning plans to "grandfather" Texas coal plants, where you can also contact Texas senators about these issues)
The tour visited communities in Waco, Dallas, Abilene, College Station, Corpus Christi, Bay City, Houston, and concluded today in Austin. The travelers included a giant coal plant float and local protestors at each site, attracting much local media attention. I've included some of the media links below:
9/29: Corpus Christi Caller Times
9/29: KRIS-TV (Corpus Christi)
10/01: TheFacts.com (Brazoria County)
This is a long-overdue first step taken by the EPA, and it now needs to be followed by some decisive and bold action in the coming months.
J Baker.