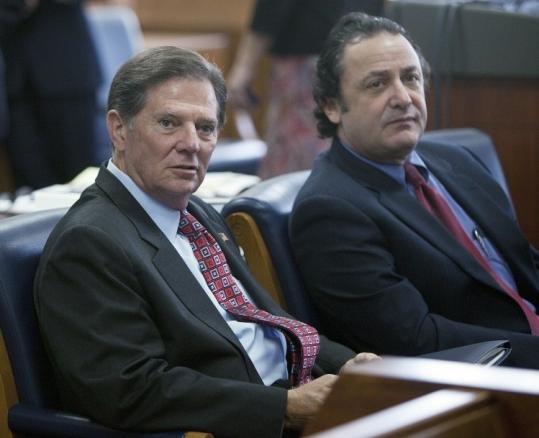 Testimony in Tom DeLay's money-laundering trial ended on Thursday, without the former House majority leader testifying and neither DeLay's chief political aide, Jim Ellis, nor John Colyandro, who ran Texans for a Republican Majority, testified because they are being tried later as co-conspirators.  Closing arguments are set for Monday and with any luck we will have a verdict by the end of next week.
In the meantime, let's recap this week.
Prosecutors in the political money-laundering case against former U.S. Rep. Tom DeLay continued their efforts to build a circumstantial case, but as the sixth day of testimony ended Tuesday, they still had not directly linked DeLay to the alleged scheme.  However, on Wednesday prosecutors presented the jury with statements DeLay made to investigators in 2005, indicating he knew of a $190,000 money swap before it occurred.
The prosecution also had the earlier testimony of an RNC official who said Ellis told him DeLay wanted the money swap.RoBold testified last week that Ellis hired him to raise money for TRMPAC and he coordinated with Colyandro. RoBold never linked DeLay to TRMPAC management.Several witnesses from the corporate donors said they thought RoBold was raising money on DeLay's behalf, but all testified they were not solicited by DeLay.
A former top accountant for the Republican National Committee testified Monday that he "firewalled" corporate money received from former U.S. House Majority Leader Tom DeLay's Texas committee in 2002 so it could not be used for direct donations to Texas candidates.
However, Jay Banning, the former chief financial officer of the RNC, admitted under cross examination by prosecutors that the donations made to seven Texas House candidates at the request of a DeLay political aide were the largest given in 2002 to Texas candidates who were not running for statewide office.
The heart of the charges is one transaction and the timing of when Delay knew about it: Texans for a Republican Majority sent $190,000 of corporate money to the Republican National Committee which, in turn, donated the same amount from its noncorporate account to seven Texas candidates supported by DeLay.
Prosecutors played a recording of an interview former U.S. House Majority Leader Tom DeLay had with Austin American-Statesman reporter Laylan Copelin on Nov. 10. indicating Delay was aware of a political money swap while it was in process.
Lawyers for the American-Stateman objected to Copelin testifying, but Judge Pat Priest said the reporter had to take the stand, but that then raised the possibility that as a witness he would be barred from covering the remainder of the trial's testimony. Prosecutors, DeLay's defense and the Statesman attorneys worked out a compromise in which Copelin could take the witness stand to verify the tape, but the recording and a transcript would serve as the evidence, allowing him to continue to cover the trial.
DeLay made similar statements to the Houston Chronicle, San Antonio Express-News and the Associated Press, but he now contends he did not learn about the money swap until after Ellis made the deal with the RNC.
Prosecutors contend DeLay and two of his aides circumvented a state ban on corporate spending in candidate campaigns by swapping corporate money with the RNC for individual donations to the candidates. The political committee started by Tom DeLay was so desperate for money during the final weeks of the 2002 campaign that its executive director, John Colyandro, loaned the committee $40,000.  That nugget came out of testimony when Russell Anderson, the accountant for Texans for a Republican Majority, the political committee started by DeLay, testified.
Forensic accountant Marshall Vogt, an employee of the Travis County district attorney's office further testified on this issue stating that TRMPAC did not have enough money raised from individuals in its account in September 2002 to make major donations to Republican candidates unless it swapped corporate money with the RNC and that the most money contributed by individuals that TRMPAC ever had in the bank was $107,074 in February 2002.
When it came time to help fund general election candidates in the fall, Vogt said TRMPAC had just $67,129 from individual donations.
The significance of Colyandro's loan is the timing.  In September, Colyandro sent a signed, blank check to Jim Ellis, DeLay's chief political aide in Washington, D.C. The check's amount was blank, Cobb suggested, because Colyandro didn't know how much money he could provide the RNC.
Colyandro's loan went into the Texas committee's corporate account, which Anderson said had cash flow problems in September with Ellis, according to previous testimony, negotiating the money swap with RNC officials.
Then Tom DeLay's own evidence turned against him on Wednesday as a calendar showed the former U.S. House Majority leader in a meeting with a key political aide two hours after the man received the check used in an alleged $190,000 political money laundering scheme.DeLay, R-Sugar Land, contends he did not learn of a corporate money swap between his Texans for a Republican Majority and the Republican National Committee until political aide Jim Ellis told him of it on Oct. 2, 2002.
In a statement to Travis County prosecutors in 2002, however, DeLay said Ellis told him about the money swap before it happened. DeLay now insists he misspoke.
Defense lawyer Dick DeGuerin introduced DeLay's calendars on the idea that they would show no meetings between DeLay and Ellis during the crucial days of September when the money exchange was arranged, to bolster DeLay's Oct. 2 claim.
Confirming the calendars with former scheduler Mary Ellen Bos, DeGuerin argued that DeLay and Ellis met only three times in September and October 2002.Once was Sept. 5, before the alleged scheme began. The second time was on Oct. 2, which is when DeLay now contends he learned of the money swap. And the third meeting was on Oct. 8, after the money was exchanged.
But Travis County prosecutor Beverly Mathews got Bos to confirm under cross examination that Ellis also was in a group of people who had a 1-2:30 p.m. grass-roots planning meeting with DeLay Sept. 11, 2002, in his congressional leadership office. Mathews noted that the meeting occurred shortly after Ellis received a blank TRMPAC check that was used in the money exchange.
The calendar revelation occurred just as the trial ended a busy day in which prosecutors rested their case and visiting District Judge Pat Priest rejected DeGuerin's pleas for a directed verdict of innocent.