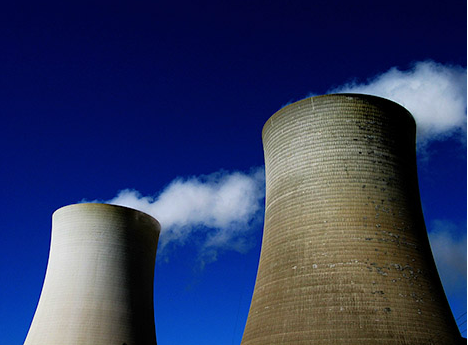 The first step towards greenhouse gas regulation is underway! On Wednesday, the EPA proposed a rule that industries measure and report their greenhouse gas emissions. The rule would apply to 13,000 facilities nationwide, including manufacturers of chemicals, oil, cement, iron and steal, automobiles, electricity generation, and more! Green Inc reports that this will cover 85%-90% of greenhouse gas emissions in the United States, and not just carbon dioxide emissions. The reports will also include emission amounts of those other things we hate to inhale, such as methane, hydrofluorcarbons, and nitrous oxide.
If put into action, emissions tracking will begin in 2010 for reports to release in 2011. Of course, this program would cost a significant amount of cash—$160 million in the first year and then $127 million each year thereafter.
The reports will allow us to pinpoint exactly how much greenhouse gas is released into the atmosphere, and from where. Though some firms are already participating in voluntary reporting, this kind of industry-wide reports will provide comparative analysis. With such detailed (and presumably accurate) information, we will also be in a better position to make informed decisions about how emission regulation should be formulated.
CNNMoney.com also reported that this information could be important to investors. For those ill-prepared companies, emission regulation could drastically affect their earnings.
Mindy Lubber, the Director of the Investor Network on Climate Risk stated:
The SEC needs to protect investors from the risks companies face from climate change, whether from direct physical impacts or new regulations. Shareholders deserve to know if their portfolio companies are well positioned to manage climate risks or whether they face potential exposure.
Public release of information would be a powerful tool to prepare companies, especially those that are energy-intensive, to be held accountable for their energy emissions. Or a good kick in the pants to take the next step to become ecologically conscious!