Haaa–aaaaaaaappy Birthday to US! Happy Birthday to US! Happy Biiiiiiiiirrrrrthhhhhhddaaaaaaaaaayyyyyy to UUUUUUUSSSSSSSSSSS! Happy Birthday to us!
[youtube=http://www.youtube.com/watch?v=m44z-223UYE]
It's our birthday! Our 25th Birthday! Or Anniversary, whatever.  The important part is, we're having a party.  And you're invited!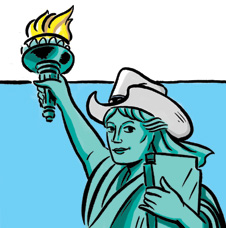 Come on out to the Barr Mansion in Austin, TX on November 6th for an evening of music, drinks, and delicious organic snacks.  We're going to have a TOP SECRET SPECIAL MUSICAL GUEST which won't be a secret as soon as I know who it is (wink).  If you trust my judgment and ability to make magic happen, go ahead and buy an advance ticket for $19.84… or wait if you must, but tickets at the door will be $25.
We're going to have a blast no matter what though, and that's what matters most!
Plus, there's a 23% chance I'll dress as Ladybird Liberty, our mascot.  Wouldn't want to miss that!