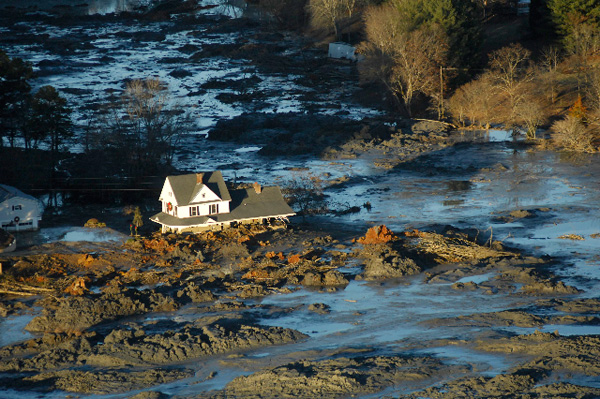 TODAY is our National Coal Ash Day of Action –  please ask the White House to allow the US EPA to finally regulate coal ash as the hazardous waste it is. Currently, coal ash is less regulated than household trash!  This toxic waste stream has never been regulated and that must change, now.
1.  Please send an email to President Obama:  http://www.whitehouse.gov/contact
2.  Call the White House:
Comments: 202-456-1111 – leave a message
Switchboard: 202-456-1414 – talk to an operator
FAX: 202-456-2461
This toxic waste is often stored in wet, slurry impoundments  like this TVA one that failed just over a year ago in Tennessee. Such facilities post the risk of catastrophic failure – the TVA disaster was labeled one of the worst environmental disasters in history by the EPA. Toxic sludge can leech and runoff into nearby watersheds over the course of years, contaminating the ecosystem. The ash is also sometimes stored in dry landfills, as is often the case in Texas. While these landfills don't pose the same catastrophic risk of slurry impoundments, they still contaminate the environment through leeching, runoff and by the wind blowing the toxic dust off the piles.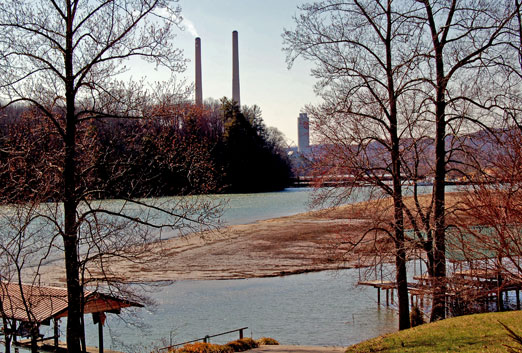 It is extremely important that Texans call in because Texas tops the list of states at risk from coal combustion waste. The coal industry is attempting to get dry-ash landfills exempted from new regulations – and most of the coal ash in Texas is stored in this fashion. It is the same, exact, toxic substances in both storage facilities, the only difference is whether or not you mix it with water. ALL coal ash waste MUST be regulated as the hazardous waste it is.
Because coal ash waste has been largely unregulated it is permitted to be used or "recycled" in many different applications such as fertilizer manufacturing (for spreading on our cropland) and components in building materials such as wallboard and roads. Basically, we are allowing the coal companies to profit by selling their toxic, hazardous waste and having it spread throughout our environment.
The coal industry has been successful at affecting EPA regulation so heavily that they have been allowed to directly edit and change EPA publications and presentations. Read this article for more on that insanity.
Below are instruction for joining in TODAY'S action — we ask that you take a small amount of time out of your day to let the White House and EPA know that this is an issue that needs action now. PLEASE do not let this opportunity for change slip away.
Fill out the form provided at this White House link (see above), including the space for your personal comments – tell President Obama:
America has waited far too long for comprehensive protections against toxic coal ash threats to our health and our water. Industry should not be allowed to flex its lobbying muscles and stand in the way of better health and a cleaner environment.
Despite the known threats to our health and environment, coal ash dumps remain unregulated by the US EPA. A deadline to propose the first-ever national coal ash regulations by the end of 2009 has been missed.
Please instruct the US EPA to regulate coal ash as a hazardous waste and use the full extent of the law to protect our health and environment. Coal and power industry lobbyists are pressuring your Administration to scale back plans to propose the strongest safeguards. Lobbyists are using power and influence to misinform and misguide federal regulators.
President Obama, you promised you would put an end to the influence of special interests – and we call upon you, now, to fulfill that promise to all Americans.
Thank you.
2.  Call the White House:
Comments: 202-456-1111 – leave a message
Switchboard: 202-456-1414 – talk to an operator
FAX: 202-456-2461
Here is a sample script that you can use when calling the White House (202-456-1414):
"Hello. My name is [first and last name], and I'm calling from [city, state] to ask that coal ash be immediately regulated as hazardous waste."
"I'm very concerned that coal ash dumps remain unregulated by the EPA, and that a deadline to propose the first ever national coal ash regulations by the end of 2009 has been missed."
"I'm asking for federal regulations that use the full extent of the law to protect our health and environment from coal ash ponds and landfills."
[Additionally, you can include one or more of the following:]
"I'm especially concerned about coal ash, because:"
Coal ash contains dangerous pollution like arsenic, lead, selenium, mercury and other toxins that can cause cancer and lung disease, damage internal organs and nervous systems, and cause developmental problems in babies and young children.
The EPA estimates there are nearly 600 coal ash ponds in 35 states—and just as many landfills. These huge dump sites contain enough coal ash to flow continuously over Niagara Falls for 3 days straight!
The EPA has said it planned to regulate coal ash by the end of 2009, but did not meet that deadline. Now coal ash regulations are being delayed by industry lobbyists pushing for less federal oversight.
Coal ash spills have occurred far too often. In April 2000, drinking water wells in Town of Pines, IN, were poisoned with arsenic, boron and other pollutants from coal ash ponds.
In November 2007, Constellation Energy settled with residents of Gambrills, MD for $54 million for poisoning water supplies with dangerous pollutants.
State coal ash rules are often grossly inadequate and ineffective. Federal protections are needed to guarantee strong, equal safeguards for public health and the environment across the U.S.
Coal ash is hazardous waste that should be regulated under the strongest provisions of the law.
Share this Action Alert with your family and friends … neighbors and co-workers — we need and deserve federal protections from toxic coal ash.  Let's send a message to President Obama – we seek the fulfillment of his promise for hope, change and a government free from the influence from special interests.
Thanks for standing with us on this important day … and for standing up for protections for all!
###
By promoting cleaner energy, cleaner government, and cleaner air for all Texans, we hope to provide for a healthy place to live and prosper. We are Public Citizen Texas.