It's been a while since a status update has been given on the Keystone XL pipeline project here at Public Citizen so the time has come!
The Keystone pipeline project is Canadian initiated undertaking involving both TransCanada and ConocoPhillips.  The pipeline is set out to be about 1380 miles long and the pipe itself is projected to be about 36 inches in diameter.  The Keystone pipeline will enter the United States from Alberta, Canada through Montana, cross through South Dakota and Nebraska to send its 700,000 barrels/day supply into stations in Oklahoma and East Texas.  In doing so, this means the pipeline would be crossing 554 acres of wetlands and 91 streams that support either recreational or commercial fisheries.
The Keystone pipeline will also run right through the Ogallala Aquifer, meaning potential damage to one of the country's largest sources of water if a spill should occur.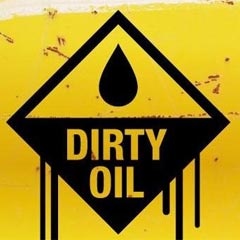 And we all know how easy it can be for an oil spill to occur.  (see the recent WSJ article on the BP Alaskan pipeline leak)
In fact, TransCanada is supposed to construct the actual pipes to be made out of a thinner material, but the oil will be pumped at a higher pressure than normal, which increases the risks of spills even more.  The last thing we need is another BP disaster in the gulf or pipeline leak in Alaska.  But suppose you say, "So what, what's another oil spill?"  Well, it just so happens that this pipeline will be transporting some of the dirtiest oil in the world.
This type of oil, known as tar sands oil, produces more global warming pollution than our normal conventional oil, 20% more to be exact.  It also makes conventional oil seem pretty darn clean.  Tar sands oil is full of toxic and harmful materials not only dangerous to the environment but the health of the communities surrounding the pipelines are endangered  as well.  Producing this oil for the Keystone XL will essentially result in the emittance of 11 million more tons of carbon dioxide.
I don't know about you, but I think we have enough carbon dioxide already to even begin worrying about adding any more.
Tar sands in general require strip mining techniques in order to be extracted, another detrimental mechanism that rapidly destroys our planet.  Before the tar sands pipeline reaches the United States, it is extracted from Canada and these tar sands happen to be found underneath the Boreal Forest.  The Boreal Forest is a critical carbon reservoir and an increase in deforestation should be a concern for all of us, not just Canada.  Go ahead, do the math. Cutting down trees in the Boreal Forest, but adding 11 million tons of more carbon dioxide to the atmosphere just doesn't seem to add up.  By using these tar sands underneath the Boreal Forest, we are only continuing our trend of our inability to cope with the rising greenhouse gas emissions as we eliminate some of our most effective resources who can help combat the issue.
Because this pipeline crosses international boundaries, a Presidential Permit is required from the Department of State.  Unfortunately, Obama has granted the permit and phase 1 of the construction has already been put into effect.  Phase 2 of the pipeline project began in 2010 and  is set to be completed in late 2011.  But, members are currently challenging the order in court.
In October of last year, Nebraskan Senators Ben Nelson and Mark Johanns each send separate letters to Secretary of State Hillary Clinton raising concerns about the proposed passage of the pipeline.  In November, an environmental group letter was compiled and sent to Clinton to request that the Department of State issue a Supplemental Environmental Impact Statement (SEIS) for the Keystone XL project and provide a sufficient period of time for public review.  A national ad campaign was also issued in November of 2010 calling upon President Obama to nix the pipeline and prevent future oil spill disasters.
Here at Public Citizen, we've been working with Sierra Club in Austin to mobilize and educate the citizens of East Texas.  Many landowners out in east Texas have been threatened with eminent domain from TransCanada to give up their land for the project.    Recently, Oklahoma citizens have filed a motion in district court to block TransCanada's plan to exercise eminent domain in order to build across their property. Sierra Club and Public Citizen have established what is called the STOP coalition in Oklahoma and Texas for landowners in opposition of the pipeline.
There is still time to stop the tar sands project from reaching Texas, your voice is vital though.
Related Articles:
http://tarsandspipelines.wordpress.com/2011/01/15/another-day-another-keystone-pipeline-spill/
http://www.hydrocarbons-technology.com/projects/keystone_pipeline/
http://www.foe.org/opposition-keystone-xl-pipeline-and-tar-sands-oil-getting-under-big-oils-skin
http://www.dirtyoilsands.org/dirtyspots/category/keystone_xl/
###
By promoting cleaner energy, cleaner government, and cleaner air for all Texans, we hope to provide for a healthy place to live and prosper. We are Public Citizen Texas.