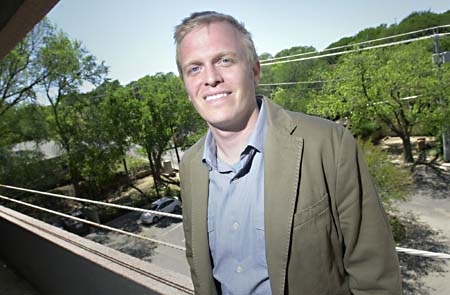 Last Thursday, three years after Mayor Will Wynn stated, "We're going to lead by example"1 referring to adoption of the City's Climate Protection Plan, Jake Stewart, former manager of Austin's Climate Protection Program who left the program in dissatisfaction, stood before City Council to present a successful citizen petition drive.
The ongoing petition's objective is to let Austin's leaders know there are numerous citizens who appreciate and support the City's hard work on climate issues, and who believe in working together to achieve as much as possible.
Jake was complimentary to those present, thanking 2007's council for its initiative and challenging today's council to recognize climate leadership can be leveraged to create economic stimulus for the whole community. Jake urged today's leaders to renew council's 2007 commitment to being "the leading the city in the nation" in climate protection and continue moving forward.
1. Austin's city council adopted its climate protection plan March 2007
###
By promoting cleaner energy, cleaner government, and cleaner air for all Texans, we hope to provide for a healthy place to live and prosper. We are Public Citizen Texas.