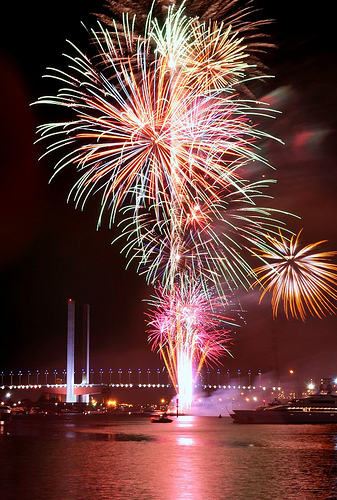 Now that the ball's dropped, toasts made, fireworks popped and black eyed peas consumed, we're feeling reflective today.  Faced with that eternally annual question, "Should Auld Aquaintance Be Forgot?", I'm moved to such mental poetry as "Heck no, this year was too much fun!"
We've had a hell of a year here at Texas Vox.  In such a short span we've gone from a humble policy blog, primarily read internally and by our own interns, to stake our claim as a top climate and energy blog in the state, with a national and even international reach.  And you, dear citizen-readers, are not the only ones to take notice: from responses we've received over the year it is clear that we're also on the radar of agency commissioners, legislators, city council members and even the office of the governor.  Not too shabby for 12 month's time, and an exciting place to be as we enter a new decade and crucial political time.
So here's the first segment of our "Year in Review" series: the Top Texas Vox Stories of 2009.
1. Energy Citizens
Remember when, way back in August, your intrepid friends at Texas Vox boogied down to Houston to crash the American Petroleum Institute's astroturf "Energy Citizens" rally?  This was the first of several rallies across the nation that API staged to make it look like there was a strong, ground-up movement against a federal climate change bill.  But it turned out that the event was more of a company picnic than a grassroots campaign; they blocked our entry and wouldn't even let in the "real" anti-cap and trade grassroots, as organized by folks like Freedomworks — no American flags either! But never fear, your own Citizen Sarah was able to sneak past their burly guards and interview a few of these so-called Energy Citizens — who we found out say the darndest things (like that they don't really know much of anything about the climate and energy bill and are there because or their employers)!
API's antics didn't end in Houston, either — in North Carolina, they even locked out the state representative of the district where the rally was held! After a few more rallies, it quickly became clear that on top of being funded by the American Petroleum Institute and stocked with energy company employees, the majority of them were also organized by oil-industry lobbyists. But by that point, no one was buying API's story anymore.  Way to bust 'em, Netroots!
2. The 2009 81st Legislative Session
Activists had high hopes for the 2009 81st Legislative Session.  With the new Obama administration, fear of pending federal climate legislation, and a new Speaker of the House to break the Craddickocracy, it seemed almost certain that good bills would pass to move Texas closer to a clean energy future.
Two weeks into the session, Public Citizen Texas' legislative package (which included such lofty goals as significant climate change legislation, a major update of state energy efficiency programs, a non-wind renewable portfolio standard (RPS), and a bill to create incentives for solar power) was in the best shape it had ever been, and the session looked to be one of the most productive in history.  At this point, all of the bills Public Citizen's Texas office supported had made it out of committee, been passed by either one chamber or the other, and had made it out of Calendars committee and were scheduled for debate.
Unfortunately, the vast majority of our legislation was calendared behind an incredibly contentious Voter ID bill which would have required Texas voters to present a valid driver's license to vote.  In order to block this bill, House Democrats adopted the "chubbing" tactic — talking bills to death — to avoid getting far enough down the bill list to have to vote on the Voter ID bill.
This stalling technique cut five days from the end of the session deadline and killed a tragically long laundry list of bills that were scheduled after Voter ID.  As an example, SB 16, an omnibus air quality bill which would have provided funding for TERP, plug-in hybrids, and a diesel emissions reduction plan, was directly after Voter ID on Calendars.  Our solar incentives bill was also on the same page, and the non-wind RPS bill was scheduled to be discussed the following day.  It was a very disheartening end to an otherwise shining legislative session — kind of like a great interception and full field run that ended in a trip just shy of the 1 yard line.
But there were still some great victories in there. These major wins included:
Funding for the Texas Emissions Reduction Program (TERP) for areas in non-attainment status of the federal Clean Air Act (CHB 1796)
A carbon dioxide registry to address the state's contribution to global warming (CHB 1796)
A "green fee" bill allowing the governing board of public colleges and universities to institute an environmental service fee (once approved by student body election)
A bill to create municipal solar districts that would allow local governments to provide low-cost loans to consumers to install solar on roofs (HB 1937)
A "no regrets" strategy for greenhouse gas reduction in the state.  This bill will require the State Comptroller to examine the state's energy use in order to find ways to reduce our emissions and save money at the same time (SB 184)
A green fleets bill to promote low emissions and plug-in hybrid vehicles for fleets of major state agencies (HB 432)
For the full text, all-green-groups wrap-up number, read the press release Texas Legislature Advances Clean Power and Green Jobs, but Loses Steam in Political Wranglings.
Check back with us tomorrow for more fun stories from 2009!
###
By promoting cleaner energy, cleaner government, cleaner cars, and cleaner air for all Texans, we hope to provide for a healthy place to live and prosper. We are Public Citizen Texas.