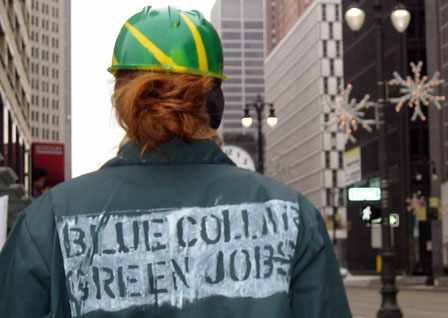 San Antonians should be proud today, when Mayor Castro will dedicate the Mission Verde green jobs training center and demonstration lab at the former Cooper Middle School on the west side.
The center will bring together sustainability education and the City's green jobs ambitions by teaching students weatherization techniques and offering on-the-job training.  The project will "provide jobs that lift up the neighborhood", offer "a 21st-century education in one of the poorest neighborhoods in San Antonio" and will give a new lease on life to a previously abandoned school building.  The center's centerpiece is a zero-energy, solar powered house that students at Texas A&M built modularly for the 2007 Solar Decathalon competition.
The Mission Verde Center is an exciting step towards San Antonio's vision of decentralized, local power and an accessible, inclusive green economy strong enough to lift all boats. As Greg Harman, environmental reporter for the San Antonio Current, put it
Community green-power centers like the Cooper Center, when hitched to a soon-to-be established city program expected to allow all income levels to receive loans for solar power and energy efficiency upgrades — loans which can in turn be paid off through the energy savings realized by the homeowner — have the potential to forever change the way San Antonio is powered.
Projects like this represent, in my opinion, one of the most exciting aspects of the climate movement.  In our switch to a cleaner,greener America, we have the opportunity to simultaneously tackle job losses, social inequality, public health, and environmental degradation. Kudos to the city of San Antonio for taking steps to create an inclusive green economy that would make Dr. Martin Luther King proud.
###
By promoting cleaner energy, cleaner government, and cleaner air for all Texans, we hope to provide for a healthy place to live and prosper. We are Public Citizen Texas.