*Update: Greg Harman at the San Antonio Current just published a fantastic and very thorough recap of the twisted nuclear saga. Check it out!
Here's part 2 in this year's first annual Year in Review: Top Texas Vox Stories of 2009 series. Part 1 is just a hop, skip and scroll down.
3. San Antonio Nuclear Debacle/Amores Nucleares Telenovela
This year has been a doozy for nuclear power, with the highlight of course being the San Antonio situation.  Over the last 12 months San Antonio has ridden a wild wave of cost estimates, community meetings, protests, scandals, and misinformation.  But I'm getting ahead of myself. Remember when…
Last January, CPS Energy committed to spend $60 million more on the proposed expansion of the South Texas Nuclear Project, a decision which at that point brings the city utility's total expenditures on units 3 & 4 to $267 million. Not long after that, Austin City Council took a look at participating in the expansion project but said "No way, that's much too risky of an investment for us." San Antonio decided that something magical (but mysterious) was different for them, despite our prediction in late April that the proposed reactors could actually cost as much as $22 Billion.  Mum was CPS' word on a cost estimate at that time, but by June they announced that $13 Billion was a good, round number. We worried at this point that CPS was being overly optimistic, ignoring the history of the South Texas Project and other nukes around the nation and independent reports, but those concerns largely fell on deaf ears.
Then over the summer, CPS Energy launched a massive public outreach campaign, with meetings in every district — but kind of botched it.  Despite activists' protests that CPS' cost numbers were innacurate, the utiltiy refused to release their information or back up numbers, and many San Antonio citizens left the community meetings feeling disenchanted with the process and suspicious of CPS.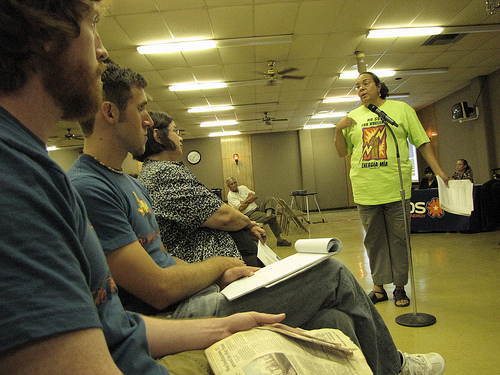 As a rising tide of activists and concerned citizens grew, eventually they formed the coalition group Energía Mía and worked together to halt CPS' spending for more nuclear reactors. The group launched a string of protests and press conferences highlighting the many flaws of nuclear power and the San Antonio deal in particular.  Everyone was all geared up for a big showdown the last week in October, but then the cowpie really hit the rotating bladed device (let's call it a windmill). For the next part, I'm going to pull from a previous post where I likened the whole situation to a geeky, policy version of a telenovela.
Previously, on Amores Nucleares:
With just days before San Antonio City Council was to vote to approve $400 million in bonds for new nuclear reactors, it was leaked that the project could actually cost $4 Billion more than CPS had been saying all summer (according to Toshiba, who would actually be building the plant). The vote was postponed, there was an impromptu press conference, and it came out that CPS staff had actually known about the cost increase for more than a week — Oops! Oh, and the "leak" wasn't that CPS came out with the truth, an aide from the mayor's office only found out after confronting CPS about a rumor he'd heard. But how did the mayor's office find out? NRG, CPS' partner in the project was the "Deepthroat", because they were going to announce Toshiba's $17 Billion cost estimate at a shareholder's meeting soon after the city council vote and thought, geez, that could look really bad for CPS! Meanwhile, CPS reps flew to Japan in a hurry to figure things out. Steve Bartley, interim GM for CPS, resigned. Furious that CPS had hidden the ugly truth from City Council, the mayor demanded the resignation of two key CPS board members, and got City Council to vote unanimously that they get the boot. Chairwoman Aurora Geis agreed to go, but Steve Hennigan said "No Way, Jose." THEN CPS completed an internal audit of the whole shebang to figure out what-the-hell-happened, which found that Steve Bartley was to blame, and everyone else was only guilty of failure in their "responsibility of prompt disclosure". Then it came out the project could be even more way way expensive than anyone thought (except of course Energia Mia, Public Citizen, SEED Coalition, the Center for American Progress, Nuclear Information and Resource Service, and analysts Arjun Makhijani, Clarence Johnson, Craig Severance, and Mark Cooper to name a few). And then those crazy cats all started suing each other.
So in the end, they told folks all summer long that the plant would cost $13 Billion, even though insiders knew since late June that it could very well be $4 Billion more. Latest update is that the plant could really cost $18.2 Billion! On December 31st, Toshiba provided CPS with another new estimate, which the utility will use to come up with their own new cost estimate mid-January. City council is slated to vote sometime after that, once and for all, on $400 million in bonds to continue the project.
But clearly, enough is enough. So if you live in San Antonio, tell City Council to stop throwing good money after bad, and to cut their losses before its too late. Tell them to vote "no" to nuclear bonds and start the year off fresh and free from the "ghost of nuclear projects past."
###
By promoting cleaner energy, cleaner government, cleaner cars, and cleaner air for all Texans, we hope to provide for a healthy place to live and prosper. We are Public Citizen Texas.