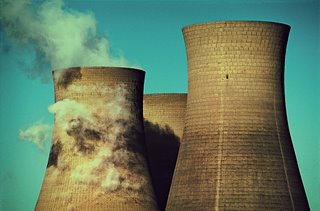 A bill currently moving in the Texas Legislature, HB 4525, would create new state subsidy of $50 million each for new nuclear and coal plants.
We need your help to stop this pork bill from passing.  Call your Senator now and tell them that nuclear power doesn't need taxpayer help!
Although the claim of HB 4525 is that subsidies are necessary to attract new manufacturing plants to Texas, the bill would actually primarily reward plants already intending to build here with a totally unjustified housewarming gift.
In particular, the two nuclear projects singled out by the Legislative Budget Board analysis as the most likely beneficiaries of these subsidies –the South Texas Project and Comanche Peak — are expansions of existing complexes.  We aren't in danger of these facilities relocating to out of state, and giving them $50 million a pop "to stay" is an extravagant waste of taxpayer money.
At a time of economic crisis, when state tax revenues are plummeting, Texas cannot afford to give that kind of money away, especially to such financially and environmentally risky projects.
Nuclear plants are already the most heavily subsidized energy industry in the United States at both the state and federal level. Coal plants are heavily subsidized as well, and the Texas Legislature is currently considering two new subsidies for "clean coal" projects. Considering the likelihood that a cap-and-trade bill will take effect soon, this is the wrong time to be adding financial support to the quickly changing energy industry.
Call your Senator today, and tell them to STOP this new coal and nuclear subsidy by voting NO on HB 4525.