At 10 a.m. EDT today, a grave test for our democracy began. Whether you're taking to the streets or hanging our printed poster in your window, help us show the media, the Supreme Court and Congress that citizens across the U.S. won't stand for more corporate influence in politics. Send your photos, videos, blog posts and stories to [email protected].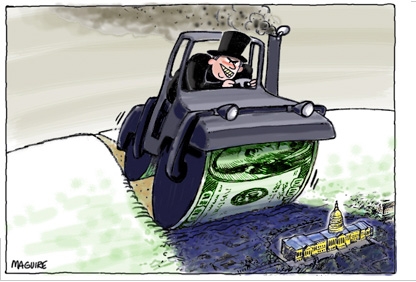 Your pledges to protest have been inspiring, and we are anticipating a lot of rabble-rousing today. But our work is only just beginning. Some time before the end of the year, we expect the Supreme Court to make its decision. We hope that the justices will rule on the side of the public interest.
But if the justices decide to open the floodgates to corporate money in politics, we ask you to please be prepared for bigger and bolder action.
Beginning today, we are asking you to help us collect pledges to protest any decision that increases corporate influence in our elections. If you're taking to the streets, please download and print our printable Pledge to Protest. If you aren't in the streets, you can still protest by warning your network of friends, family and colleagues and asking them to pledge to protest any decision by the court that gives corporations more advantage over citizens.
Please send us photos, video and stories to [email protected] so we can share your outrage.
Stay tuned to hear about the protests happening across the country today and the impact you had.
Thank you for all you do!