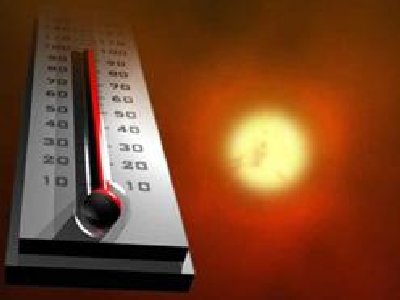 Just four days into summer, and we're already are setting records for energy consumption in Texas.  Yesterday Reuters reported that the Texas grid had set a new record for peak energy consumption in the month of June.  With temperatures already in the 100s in our largest urban ares, thermostats are cranking across the state, and energy bills are going up.
Texas consumers used 60, 452 MW of energy in the hour ending at 5 o'clock yesterday, blowing last year's June record of 59,642 MW out of the water.
But today ERCOT is predicting that Texas will set a new record for electricity consumption.  Period.  By about five o'clock this afternoon, the time of day when the the sun is shining brightest and A/Cs run hardest, Texas will be consuming more energy at one time than we ever have in our history.
According to the Ft. Worth Star Telegram,
The Electric Reliability Council of Texas, which oversees the power grid that serves about 22 million Texans, forecasts that power demand will peak today at 62,450 megawatts and at 63,589 megawatts Thursday. The record is 62,339 megawatts, set Aug. 17, 2006, ERCOT spokeswoman Dottie Roark said.
If we're reaching record energy use this early in June, I don't even want to think about how bad its going to get in July and the dreaded August.  Global warming, indeed.  Don't say we didn't tell you so.
But no need to worry about outages, ERCOT says.  The grid has more than 72,700 megawatts of available generation capacity, plenty to serve on even the hottest days.
So wait a minute.  If we have 10,000 MW of extra power lying around, why is Texas rushing to build 12 new coal plants to provide tons of baseload power?  Judging by this recent run of records, looks like what we really need is *peak power.
Not sure of the difference?  An aside for the uninitiated.  There are two main classifications of power that run our modern lives: baseload, and peak.  Baseload is steady amount of power we need under normal circumstances (because as a society we're always doing something that requires energy), and peak is the extra energy we need when we are all doing something at the same time.  Think about baseload and peak power as you would about keeping your body hydrated.  We always need to be drinking a certain amount of water to stay healthy and functioning (baseload aqua), but when we are working out or being active outside, need even more on top of that (peak gatorade).
Baseload power is largely provided by the old dirty standbys — coal and nuclear (unless you're in Houston, in which case it is gas in abundance, baby — one of the reasons power in H-town is so expensive).  Baseload is the huge, slow, steady sort of power — the kind we have plenty of.
In Texas, peak power is generally produced by gas turbines.  When it starts to reach that key hot afternoon time, your energy provider flips the switch to turn on a quick revving gas turbine to turbo charge the grid with enough power to keep all those fans spinning and air conditioners blowing.
Another source of peak power, though less common currently, is of course solar power.  Solar produces peak power because just as the day gets hottest, and we need power to keep us cool the most — the sun is shining brightest!  Match made in heaven, really — solar and the need for peak energy.
So why  is Texas trying to build 8500 MW + 9149#of coal MW of additional baseload power from coal and nuclear plants when what we really need is peak power, and solar is such a natural fit to produce peak energy?
Good question.