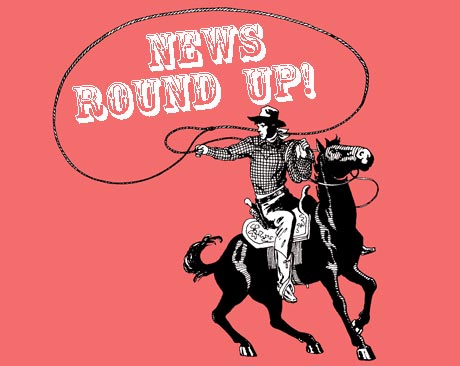 The Texas Progressive Alliance is ready for Primary Day and reminds all of you to vote if you haven't already. Here is your Primary Day roundup.
From the Barnett Shale, TXsharon announces a new "Watchdog" for drillers and her SOS to EPA about benzene and other dangerous toxins in the Denton Creek Watershed was heard. The EPA has responded! Bluedaze: DRILLING REFORM FOR TEXAS
After the latest prevarication on her date of departure from the Senate, PDiddie at Brains and Eggs opines: "Kay Bailey, won't you please GO HOME?!"
CouldBeTrue of South Texas Chisme shows the Texas Supreme Court flipping the finger to Texans, yet again.
Bay Area Houston highlights yet more hypocrisy from Rick Perry with his I Came and Took it! teabagging campaign.
At WhosPlayin the recent discussion has centered around equity in the Lewisville ISD. It looks like the district may be taking a big step by considering a tear-down and rebuild of the district's oldest high school after costs for asbestos remediation and fire sprinkler installation in the old building went too high. Construction is not equity, though, and there are still issues to be addressed.
Over at McBlogger, Mayor McSleaze takes a look at the Republican HD 47 primary fight and finds it almost as entertaining as an old-fashioned pie fight.
Sen. Kay Bailey Hutchison changes her story again about when she might leave the Senate. Off the Kuff has lost count of how many times this has happened.
WCNews at Eye On Williamson has a round up of the campaign cash and who's giving in Williamson County, Bob Perry looms large in Williamson County GOP House races.
The Texas Cloverleaf looks at the early voting turnout in Denton County and the GOP surge.
This week on Left of College Station, Teddy makes the case for Brazos County Democrats to vote in the Republican primary, and releases the Left of College Station Democratic primary candidate endorsements. Left of College Station also covers the debate in the Texas A&M Student Senate over the anti-discrimination policy.
Pollchecker , over at TexasKaos calls out McCain on using Texas health care as an example of "success". And he wonders why he is not president?
Neil at Texas Liberal offered up his 2010 Democratic Primary slate. Neil also noted that Texas Liberal passed one million page views. Thanks to everybody who has read the blog.
###
By promoting cleaner energy, cleaner government, and cleaner air for all Texans, we hope to provide for a healthy place to live and prosper. We are Public Citizen Texas.