You would think that the Veterans of the United States would be mostly outspoken about traditional war issues, such as pulling the troops out of Iraq or sending more of them to Afghanistan, but a few groups of veterans have decided to take a different route. Operation Free is the name of a veterans' movement that has been touring the country to advocate about climate change and to support the passage of the climate change legislation currently being debated in Congress. They consider climate change a "national security threat" (consider that Homeland Security) and their mission is to "Secure America with Clean Energy."
Here is a video of the group visiting Washington D.C.
[youtube=http://www.youtube.com/watch?v=x3g1BPSS-fY]
Besides the organization's concerns about the security of our food, health, and water, they tie a very interesting view on climate change to terrorism. Since climate change makes certain areas of the world inhabitable, the devastated people of such areas will be more prone to be involved with terrorist groups.
"Shifts in climates will result in shifts in populations as certain areas become more and more inhabitable. The bulk of these refugees will be sequestered away in squalid, wretched camps and largely denied education, medical care, and access to the opportunity of the outside world. This environment is for terrorists like a pool of stagnant water is for mosquitoes: a breeding ground." – Drew Sloan Former Army Captain, Infantry OEF/OIF Veteran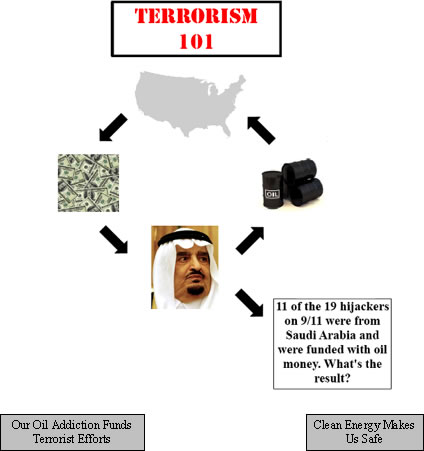 Patrick Bellon, Western Regional Director of another veteran's organization called VoteVets, told Public Citizen that when the public sees veterans advocating for such an issue it gives it more credibility, "But they are often surprised and curious to see veterans talking about it," he added. Bellon thinks that the majority of people still can't fully comprehend the threat of climate change, "when people hear that there will be three degree change in temperature, they don't understand the impact of that."
You can visit the VoteVets blog by clicking here