The protests in Wisconsin. The passage of the CR in the House in the dead of night over the weekend. And the continued debate over how to balance the Texas $26 billion budget gap. We kept getting told there are no sacred cows- that all have to share in the burden and pain of budget squeezing.
But realpolitik has shown exactly where the real sacred cows are, while corporate tea party crusaders use the budget crises as a reason to bust unions, raid pensions funds, and slash health services and education budgets, they are leaving intact the tax breaks for oil and gas companies.
Let's talk Texas first:  a new study out this morning by the Texas Tribune showed that Texans want a balanced approach to fixing the budget.  The single most popular answer was a 50/50 split of revenue enhancements and spending cuts.  However, when you asked people what they wanted to cut spending on, the answer was a resounding NO! to education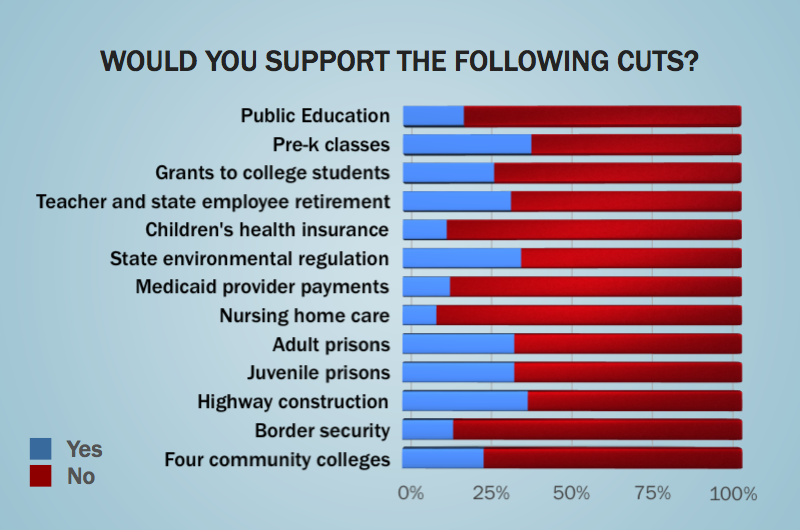 cuts, NO! to health services cuts, NO! to environmental reg cuts. And when asked where to increase revenue, it was equally sticky.  The single most popular options, the only ones which get over 50% support, was to legalize casino gambling and increase alcohol taxes.  But taxing vice can only get us so far.
One of the things not touched by the poll were the enormous tax breaks we give to the natural gas industry, one which the LBB has suggested eliminating, namely a $7.4 billion tax cut to oil and gas companies using "high cost" wells- which generally means one thing: hydro-fracturing. Fracking is used on areas like the Barnett Shale and has been linked to spoiled water, a cancer cluster located in Flower Mound/Dish, and natural gas turning tap water flammable, and a garden hose into a flamethrower.
At the very least, all of the drilling is producing more air pollution than all of the cars and trucks in the Dallas-Forth Worth area. So to add insult to industry, not only is the drilling on the Barnett Shale ruining families' homes and making people sick, but we are paying the companies billions of dollars in pork to do it, robbing school children and those who need a hand from social services.
And to kick us even more when we're down, Chesapeake Energy has the audacity to say if their corporate welfare goes away, they're going to have to curtail drilling on the Barnett Shale.  From the Star-Telegram's story:
An executive with Chesapeake Energy told members of the Tarrant County legislative delegation Wednesday that the company would consider curtailing activity in Texas if the exemption is discontinued.

"We'd have to look at it on an individual well basis, but I think it's pretty safe to say that we would reduce our activity in the state of Texas," Adam Haynes, senior government affairs director for Chesapeake, said after his appearance before lawmakers. "It certainly affects the Barnett Shale, absolutely." (more…)