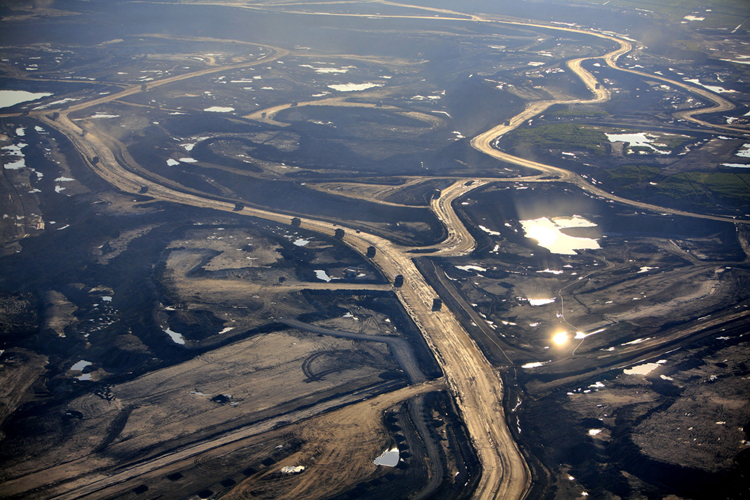 Tar sands oil makes conventional oil look clean by comparison, as it produces 3.2-4.5 times more the carbon footprint than conventional fuel. If that weren't bad enough cleaner fuels such as natural gas, which otherwise might be used to generate electricity, are wasted in the process of creating more dirty energy from tar sands. Tar sands oil is a type of bitumen deposited in a semi solid form whose extraction is an extremely energy intensive project. For every third barrel of oil extracted one has effectively been consumed by the process. The process of tar sands oil extraction has left vast tracts of land barren with little vegetation as it is strip mined; while only 10%, of what is excavated, is oil. While some water is recyclable, the remaining toxic water is diverted to the euphemistically named "tailing ponds". There are 2.5-4 barrels of water dumped into these toxic lakes for every barrel of oil extracted. These toxic "ponds" are actually very large; some are even visible from space.
Needless to say these pools are quite harmful to surrounding ecosystems as well as ground water supplies. The land left behind from tar sands extraction is a barren wasteland lacking vegetation and dotted with these toxic waste pools. Not only is the devastation comprehensive, it is widespread. Tar sands extraction in Alberta, Canada is set to affect an area the size of Florida.
Pipelines bringing this dirty oil to the United States have already been built, but TransCanada, an extractor of tar sands oil, has proposed to expand the pipeline system. Part of the proposed expansion will link to a current pipeline in Oklahoma and extend it into East Texas and the Houston Bay Area so that it might be refined there. These refineries will require expensive additions to handle this heavy crude. The planned route crosses through Texas and Oklahoma over rivers, through national forests, and across private land. Landowners have been threatened with eminent domain if they do not comply with Keystone's demands. Keystone XL clearly places finance over environmental safety as they applied for (then temporarily withdrew) an application for exemptions to the rules that would allow them to make the pipe thinner in rural areas and yet pump at above currently permissible levels. However, they may reapply for this "special permit" later as they seek lower costs at the expense of the public. We cannot allow this to happen. The social costs of tar sands oil production is far too high and the benefits far too small. The expansion of this extremely dirty energy undermines what progress has been made in cleaning America's energy consumption. While we should be cultivating clean energy production, the dirtiest energy production is being expanded.
Keystone XL needs a presidential permit to build this international pipeline. This is a point of vulnerability. Throughout the summer Public Citizen has been organizing individuals and groups to attend various meetings, hearings, and conferences. The U.S. State Department has held public hearings on its Draft EIS and we have urged others to take the opportunity to raise their voice.
Our efforts at getting such groups together continue as we move further down the proposed pipeline into the Houston area, reactivating allies and making new ones as we work together to stop a pipeline that is proposed to travel near sensitive areas such as the Big Thicket National Preserve. This pipeline only adds to Texas' clean air problems and by stopping it in Texas we can change the momentum on a rapidly growing dirty industry. Future infrastructure development should be dedicated to renewable, clean energy – not dirtier energy than what we already have.
###
By promoting cleaner energy, cleaner government, and cleaner air for all Texans, we hope to provide for a healthy place to live and prosper. We are Public Citizen Texas.