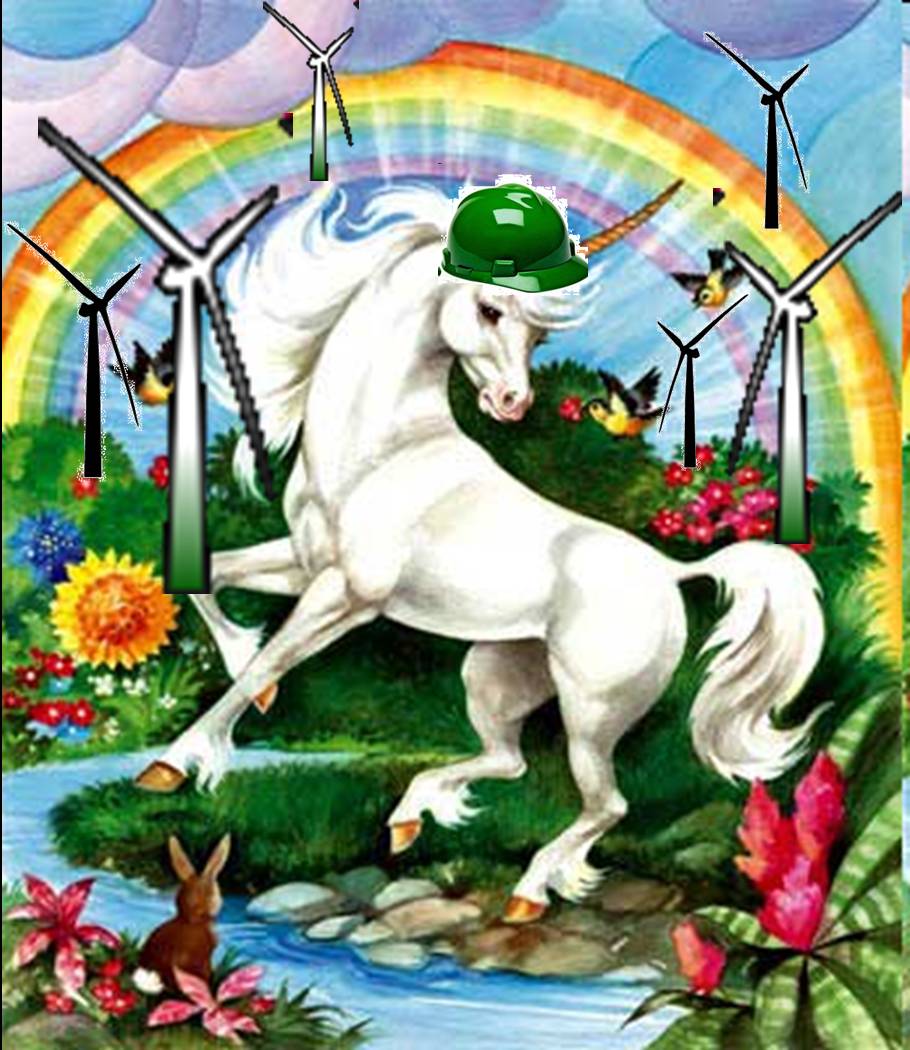 Texas is a sparkly mythical wonderland full of unicorns.  And by unicorns, I mean green jobs.  And by green jobs, I mean well-paying, long-term jobs ranging from maintenance to operations, project management, and high-tech engineering.
Greg Wortham, Special Contributor
Monday, October 05, 2009
Texas Texas Comptroller Susan Combs was quoted recently in The Wall Street Journal as saying the wind power industry in Texas has created only 500 to 800 jobs and that finding a "green" job in Texas would like finding a unicorn.
"I don't know where the new jobs are going to come from," Combs said. "They're not going to come from wind." Well, apparently the unicorn is alive and well in Texas. I am the mayor of Sweetwater, the wind energy capital of the Americas and America's energy solutions center. I guess my town would be as good a place as any to find "the mythical beast" that Combs says does not exist.
A detailed study of the economic impacts of wind energy in our single county was released at the Texas Capitol in summer 2008 that details that Nolan County hosts more wind energy jobs than the Lone Star State's chief accountant says exist in the entire state. Interviews directly with more than 20 local wind energy companies demonstrated that we have well more than 1,000 wind energy jobs just here.
Even with a temporary reduction in 2009 construction (which is already beginning to gear back up), our community alone has more permanent wind energy jobs than the comptroller says exist in all of Texas. More than $4 billion of capital investment has been spent here since 2001, and the county tax base has increased 500 percent due substantially to wind energy capital investment, numbers that are reported to the comptroller.
And we are not an isolated "greenie" subculture. We are a proud Texas energy community, where 20 percent of the work force is in wind energy, 20 percent is in oil and gas, and 10 percent is in nuclear energy (www.ludlums.com). We are also scheduled for the world's first commercial-scale carbon sequestration coal-fired power plant (www.tenaskatrailblazer.com).
General Electric alone employs more than 150 families in our community at their only wind energy operations center.
And then — just in Nolan County — there are Upwind, Northwind, SecondWind, Wave Wind, Wind Energy Services, Wind Energy Turbine Services, Barr Field Services, Titan, Advance Turbine Services, Turn Energy Services, Evans Wind Division, Fastenal, Hytorc, Flatliners, Lone Star Transportation, ATS Transportation, Altezza, Crane Service Inc., RWS Crane Service, Siemens, Mitsubishi, Texas State Technical College, New Amsterdam Wind Source, Texas Wind Energy Clearinghouse, Wind Energy Capital, Texas Windworks, Wetsel & Carmichael, White Construction, Sun Electric, IES Kayton, Third Planet Windpower, Invenergy, E.on Climate & Renewables, NextEra (FPL Energy), BluArc Management, AEP, AES Wind Generation and dozens more large and small entrepreneurial ventures solely or substantially engaged in the wind energy industry.
Beyond Sweetwater and Nolan County are dozens of West Texas and South Texas communities with substantial wind energy operations employment. Moreover, Texas heavy industry makes precision parts at dozens of factories from El Paso in the far west to Nacogdoches in deep East Texas, Gainesville in the north to Houston in the south.
Texas ports lead the nation in the handling of thousands of units of massive turbine components (imports and exports), as well as our railroads and our trucking companies.
Here is a sampling of the industrial components made by Texans in permanent jobs in the wind energy industry: carbon fiber, steel components, steel towers, turbine nacelle and hub assembly, turbine blades and so on.
Here are some of the operational services provided in Texas by permanent Texas workers: blade repair, project operations, turbine maintenance, project development, transmission assessment, logistical analysis, replacement parts distribution, turbine component troubleshooting, safety training, rescue at height, heavy crane operations, component transportation, large-scale storage operations (hundreds of acres per site), torque services, wind law, wind graphics, parts warranty and supply for North America and South America, and many more. By the way, those are just examples of separate companies in Sweetwater alone.
Then there are the permanent wind energy workers at service and industrial companies in Abilene, Pampa, Dumas, Odessa, Sterling City, Roscoe, Snyder, Gainesville, Big Spring, San Angelo, Amarillo, Albany, Robert Lee, Round Rock, Stanton, Vega, Perryton, Corpus Christi, Houston, Freeport, Beaumont, El Paso, Nacogdoches, Dallas, Fort Worth, Coleman, Brownwood, Dickens, Floydada, Blackwell, Trent, Merkel, Nolan, etc.
If there were only 20 jobs in each of those towns, that would exceed the 500 unicorns claimed by the comptroller. Given that Sweetwater has well more than 1,000 wind energy jobs and several others in the list have hundreds of permanent wind energy jobs each, it is with great confidence I can claim that the unicorn is alive and well and growing in Texas.
Perhaps The Wall Street Journal (and the comptroller) could travel to Texas to see the unicorns running among us.
A bit more respect for a substantial and growing Texas energy industry would also be appreciated.
Wortham is mayor of Sweetwater.