If you didn't think the Governor race in Texas can get any crazier, you were mistaken. Texans for Public Justice released a report today which shows the Governor receives contributions from his political appointees. (This we knew, but in these amounts?) According to the report, Perry's campaign has received more than 17 million dollars in contributions from his appointees and their spouses since 2001. These contributions come from entities like the A&M Board of Regents to the Texas Tax Reform Commission.
Perry's hands are in every government agency in the state. His appointees rank from commissioners of big agencies like the PUC or the TCEQ to smaller ones like the Guadalupe Blanco River Authority. The report points out that almost a quarter of his appointees have given money to his campaign fund. This is not the first time news about Perry's shakedown of his appointees come out, in 2005, the Houston Chronicle published a story about Perry collecting 5 million dollar from his appointees. The contributions averaged about 18 thousand dollars but if you look at the chart below (From TPJ) , you can see that the governor received hundred of thousands of dollars from some appointees.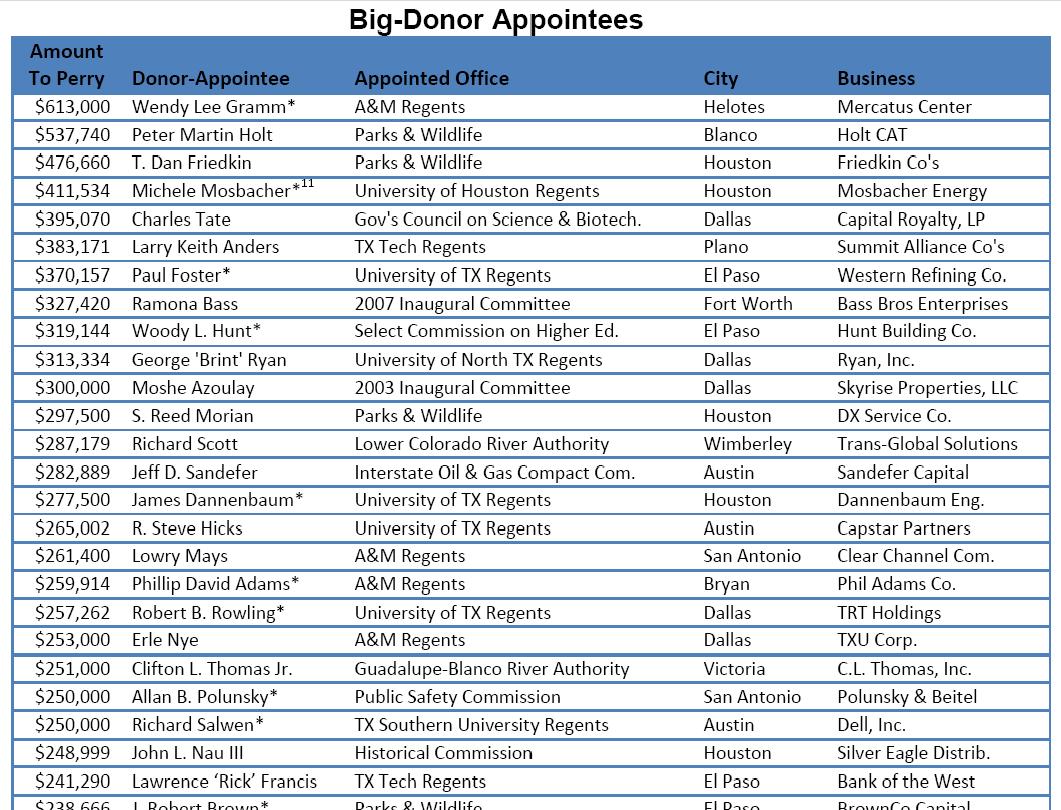 This explains Perry's fierce defense of his appointees when something bad floats to surface and it also explains how he has been the longest-serving governor in Texas. In a country that prides itself on a check-and-balance type of government, those kind of reports and numbers should be staggering to people.
For fairness sake, many would say Bill White is just the same, he also receives contributions from his political appointees. According a Texas Tribune article, they are right, but the scale is entirely different.  Since White started being in public life in the 90's, he has collected about 2 million dollars. This is on a much lower scale than the 17 million dollars Perry received in less than ten years, and the fact that this 17 million represents between one-quarter to one-fifth of the money raised by Perry.
It is dangerous to our state that our governor is banking on the shaping of policy in Texas. But here in Public Citizen, we always say, "the only thing that beats organized money is organized people, " so it is our turn to look at the facts, learn about the issues, and reject the status quo of money having an undue influence in politics.  We call on all candidates for public office to support REAL reform of our campaign finance system, including bans on raising unlimited money from appointees and especially by moving to a system of public financing for all offices.
###
By promoting cleaner energy, cleaner government, and cleaner air for all Texans, we hope to provide for a healthy place to live and prosper. We are Public Citizen Texas.