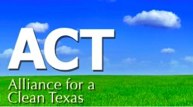 Join Public Citizen and the other Alliance for a Clean Texas member organizations in promoting a create a clean energy economy in Texas! We will lobby the Legislature to promote energy efficiency and renewables and implement a moratorium on coal. By working together, we can keep Texas clean, reduce risks to human health, and create sustainable jobs.
Register now for this free event!
Advocacy Training
WHEN: Tuesday, February 17, 5-9 PM
WHERE: University Presbyterian Church, 2203 San Antonio St, Austin, TX 78705
Parking available in University Co-op Garage across the street.
Your favorite lobbyists (that's us!) will provide information, training, and a box dinner.
Lobby Day
WHEN: Wednesday, February 18, 8 AM-Noon
WHERE: Legislative Conference Center, Texas State Capitol, E2.002
Parking available in Capitol Visitors parking garage at 1201 San Jacinto located between Trinity and San Jacinto Streets at 12th and 13th Streets.
Following check-in, Lobby Day participants will visit their Texas State Representative and Senator and ask them to support clean energy legislation. They will also invite them to the Texas Energy Future conference later that morning in the Legislative Auditorium.
After lobbying, participants can attend the Texas Energy Future: Clean Power, Green Jobs conference with keynote speaker Van Jones and business leaders in the fields of energy efficiency and renewables. See the conference website for more information and to register today.
Following the conference, Public Citizen will host a mixer outside our office on 1303 San Antonio St.  We hope to see you there!